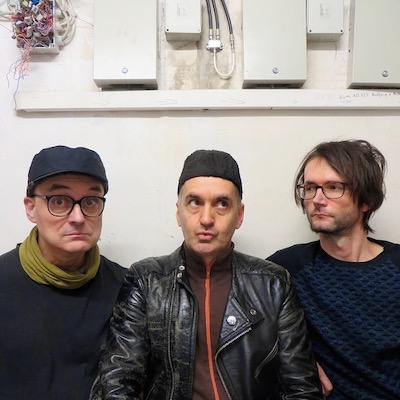 xenofox & JOKE LANZ

Olaf Rupp - electric guitar
Rudi Fischerlehner - drums
Joke Lanz - turntables


"This is what rock and roll should sound like in 2018."
Kevin Press/exclaim!


A room with view: Olaf Rupp is one of the leading figures of Berlin's very lively improviser's scene since years. Following the tradition of consequent improvisation and deep listening, he constantly explores new ways to work with the electric guitar as a tool for musical communication. Xenofox is a hard working Duo project of Rupp and the Berlin- based eclectic drummer Rudi Fischerlehner.

As the very special Trio "Xenofox & Joke Lanz", they present a unique and innovative form of improvised music for the electric guitar, drums and turntables which is highly entertaining and is clearly influenced by trip hop as well as by punk and performance art through the unmistakeable involvement of the Swiss DJ artist and "Sudden Infant" founding member Joke Lanz. Real-time music at its best!
(Text from the program of A L´Arme Festival Berlin 2017)

Their debut album "Alarm" is out on Oltrarno Raw, released in December 2018.
Avaiable from Bandcamp .





"Combining the spirit and techniques of free jazz interplay with an unsparingly industrial appeal, the result is electrifying. Rupp, Fischerlehner and Lanz are as tight as their jagged-edge playing will allow. When they're not playing off one another, they're crashing into one another. This is what rock and roll should sound like in 2018."
Kevin Press/exclaim!


"Dabei geht das diebische Vergnügen daran, den Verhältnissen eine knallende Zigarre zwischen die feisten Lippen zu juxen und die Klangwelt in eine Möbiusschleife zu drehen, einher mit der ausgefuchsten Virtuosität, wummernde Beats und krummes Geklimper mit knattrigen und fetzigen Wooshes und Rupps Gitarrenmaximalismus zu verzwirbeln. Von prickeligem, tickeligem Geflimmer zu schroffen Schraffuren, rasenden Trillern und bebenden Verwerfungen. (...) Das ist, statt einem nur vollstoff den Schädel zu plätten, richtig spannend dosiert."
Rigobert Dittmann/Bad Alchemy


"Rupp, one of the leading figures of Berlin's Echtzeit scene, and Fischerlehner, an excellent Berlin-based drummer, have been playing together under the moniker Xenofox for years. With Swiss DJ artist Joke Lanz on turntables they combined sampling techniques, trip hop influences and freely improvised music. Lanz (...) was an obvious extension for Xenofox. So it was no surprise that they didn't have to warm up and started raging full-on.
Rupp's unique style with a lot of tremolos and arpeggios and Fischerlehner's grooves were attacked by Lanz' provocative intersperses, which created weird and crass beats. But like in the aforementioned concert with Sophie Agnel the band was at their best in the quieter moments, when they created the atmosphere for the more dynamic passages. A really great show."
Martin Schray/freejazzblog.net

Foto: marcraeder.de
>> up