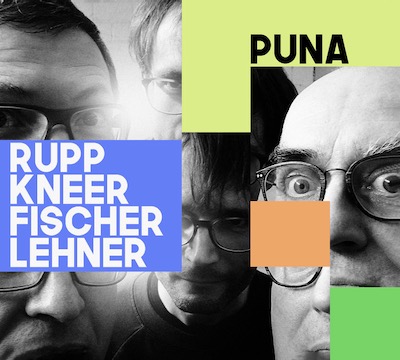 Puna
Olaf Rupp - electric guitar
Meinrad Kneer - doublebass
Rudi Fischerlehner - drums, percussion

"Super raw, yet refined, often surprising improvisations and new universes of sounds."
Eyal Hareuveni, Salt Peanuts
"It's a delightful record to get lost in."
Vital Weekly
"Heftig und druckvoll, scheppernd, mit Becken- und Bogenschlägen, kapriolenden und ostinat rubbelnden Fingern, und Rupp dazu unter Strom mit geradezu deliranter Virtuo­sität."
Bad Alchemy


Album

Puna, Klanggalerie CD, 2023
Available from Bandcamp

Olaf Rupp plays Improvised Music on the acoustic and electric guitar. The organic flow of his music is guided neither by chance nor by dominant, willful decisions. To him the same level of focus and attentive energy should be present in loud and fast music as well as in softer, more subdued kind of playing. In all his music he explores how motion-clusters can be perceived as one agglomerated sound in motion by using spectralistic fields of tones.
Meinrad Kneer is a double bass player, composer, improviser, band-leader and label owner. His music moves along the musical boundaries of jazz, improvised, contemporary-composed and ethnic music. He studied double bass and music in the Netherlands (conservatories of Hilversum and Amsterdam), where he quickly entered the Dutch jazz- and subsequently the international scene of free improvisation.
Rudi Fischerlehner plays drums in various different musical projects that fall between improvised and experimental music, jazz and post-rock. He also composes and produces music for bands, film and performances. Born in 1977 in Austria he was introduced to the drums in his childhood and received lessons on drum kit and classical percussion. As a teenager he starts to perform with bands in and around Linz, then moves to Vienna, travels to Africa and China, spends a few months in New York and now resides in Berlin.
Puna is the trio's first album as a group.